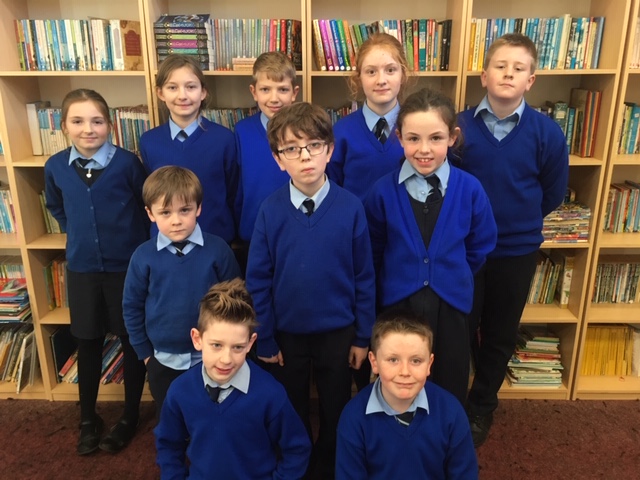 We had a great time going to Stakelums and choosing toys for the children in Crumlin Children's Hospital, using the money we raised at the Christmas Cake Sale. We made a fantastic, varied selection for children of all ages and we hope we covered a lot of interests too. Aaron gave us some great advice on what would be most suitable and we had some great discussions on what toys would work best. Stakelums gave us a very generous donation also which we really appreciated and we know the children in the hospital will too. Thanks to Karen Gleeson for all your help and advice and Aaron for some brilliant ideas and guidance. It was a day we will never forget.
Seachtain na Gaeilge was a big success with super events planned for all the classes. Bhaineamar a lan taitneamh as an gCeili Mor sa halla agaus bhi Trath na gCeist thar barr. Bhiomar ar muin na muice ag an Maidin Caife freisin. D'olamar seaclaid te agus bhi cupla "chats" againn as Gaeilge. Bhi an craic ar fheabhas gan dabht.
The Student's council organised a fantastic Action Day in conjunction with An Taisce's National Spring Clean event. We decided to take part in the National Spring Clean Project in conjunction with An Taisce. Everyone in the school was involved in tidying areas around the school, schools grounds and the village. Incredible work was done in the area and the place is looking spotless. It was a fantastic community effort with so many people getting involved and helping out. Thank you to everyone who gave their time to help out, we really appreciated it. A special thank you to the Tidy Towns committee who work so hard and organised a fabulous treat for all the children after their busy day picking up all the litter. Photos from the day are on the Twitter account. For all other Green Schools updates that the student's council have been involved in please check the Green Schools part of the website.
The Student's Council would like to extend a massive thank you to everyone who helped us and came to our bake sale before the Christmas holidays.
Thank you to everyone who worked at a stall, everyone who donated baked goods for sale, everyone who donated prizes for the raffle, everyone who sang in the choir, everyone who donated decorations and lights, everyone who helped set up and clean up afterwards and everyone who attended with such good cheer on the day. We all had such a wonderful time and we really appreciate all the donations and custom.
We are thrilled to inform you all that we raised €965 on the day. As previously mentioned, half of this amount is going to the Green Schools committee and will be used for resources and activities organised towards earning our first green flag for Litter and Waste. The second half will be used to purchase toys which will be donated to Crumlin Children's Hospital. We will keep you all updated with these two initiatives as they progress.
We would also just like to remind people that there were some containers left behind on the day of the bake sale which can be collected from the school any day.
The Student's Council
*********************************************************************
The Student Council are holding a Bake Sale in the school Hall on Friday 21st December 2018 at 9.30am. Classes will be scheduled during the day to go down to the hall and buy some treats if they wish. There will be complimentary tea and coffee for anyone who would like to pop down at 9.30 am that morning to sample some of the delights!
Proceeds will be going to Crumlin Children's Hospital and will also be used to fund further projects that the Student Council are working on. Donations of any kind of buns, cakes, biscuits and treats would be greatly appreciated and can be dropped into the school hall at 9am on Friday morning.
If you are bringing money to school that morning please keep it somewhere safe like in a zipped pocket or wallet. Please write your name on any plates, bowls, boxes or trays that you send in so everything can be returned efficiently. There will also be a raffle and games to take part in with plenty of festive prizes up for grabs. Your custom would be greatly welcomed.